High-Quality Metal Buildings in California
California is home to many people – approximately an eighth of the entire US population. Therefore, it is no surprise that it is one of the most prosperous states in the country as well. Some of the key industries are energy production and agriculture.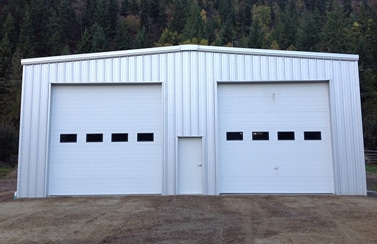 California has it all, from majestic mountains and arid deserts to towering forests and fertile farmlands. All these areas have unique requirements concerning building solutions. At Toro, we have highly customizable steel and metal buildings for sale in California to meet the various needs of customers across the state.
We Offer Metal & Steel Buildings in California, Including:
Warehouses
Church buildings
Industrial buildings
Prefabricated structures
Recreational buildings
Benefits of Our Steel & Metal Buildings
Fire Resistant
Fire has always been an ever-present threat across the west, especially with the climate changes over the last several decades. Unlike wood structures, metal buildings are naturally fire-resistant. Steel will not be the first ignition point for a fire and does not feed one that is already burning.
Performs Well During Seismic Events
In a state that gets over 500,000 measurable earthquakes annually, a building that performs well during seismic events is a welcome reprieve. Not only is steel one of the strongest building materials available, but each of our metal buildings is designed to meet the seismic loads of your area.
Environmentally Friendly Options
Californians in favor of protecting and preserving the environment can breathe easier in a metal building. Each of our structures can be fully recycled at the end of their life to reduce landfill waste and decrease your carbon footprint. On top of that, when properly insulated, steel buildings can reduce your heating and cooling costs.
Custom Designs
Our in-house engineering team carefully designs our metal buildings in full respect to your location's requirements and regulations. We also have a wide variety of building options and finishes to match your unique preferences. Regardless of your application, our design team works with you to create a reliable, durable, and functional metal building that will serve you for decades.
High-Grade California Metal Buildings at the Best Prices
Toro provides a wide variety of steel buildings in California, including metal storage facilities, agricultural buildings, garages, and more. The structures can last through the strong California winds, storms, and seismic events. Contact us today to get more information about our products and services or discuss a custom metal building solution. You can also request a free quote.