The arch metal roofing systems available from Toro Steel Buildings can add both structural integrity and a simplistic aesthetic appeal to your building. They are easy to erect, and are quite versatile, allowing them to be used in a variety of industries and purposes. Whether you're looking to add a metal roof to your business, agricultural structure, commercial building or even your home, a metal roofing system will suit your needs and provide a safe and strong covering.
We had purchased 3 roofing structures (large Gazebos) and they have worked out fantastic. These 20ft by 40ft gazebos gave our little league players place for shelter, from the sun or rain and a place to enjoy the concession food and snacks after the games. They look great and were easy to install. Working with Ari Schreiber was a real pleasure as he was knowledgeable, attentive and helpful. Pricing was very good .Thanks Future Buildings.
Frank C., Staten Island, NY
Metal Roofing Systems Provide Reliable Protection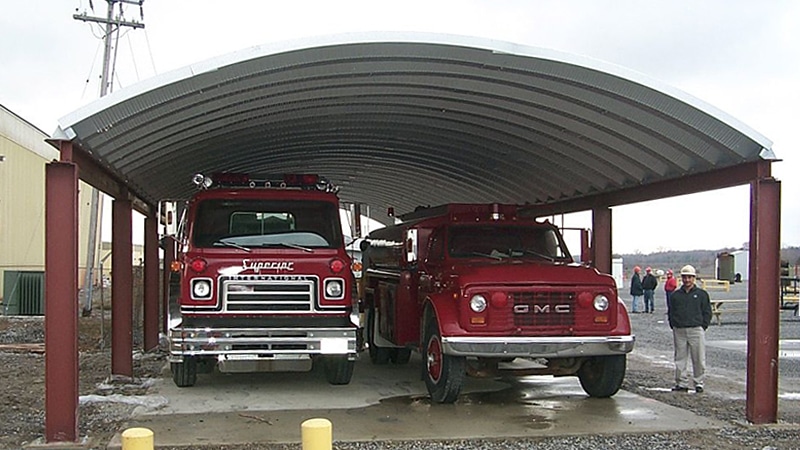 A metal roof offers durable, long-lasting protection. Each roofing system is made with Galvalume PlusTM steel, meaning it is rust-resistant and has twice the corrosion resistance of galvanized steel. The curved design allows you to create beautiful rounded shapes on your roof and create easy arched canopies or covered walkways.  The possible uses and designs for our roofing systems make this one of the most creative solutions on the marketplace.
The whole staff at Toro that I had occasion to work with were very conscientious in following up on the inevitable details in the design, ordering, shipping and delivery of the building. I am very satisfied with Toro as a company.
John Finch
Designed to Suit Your Needs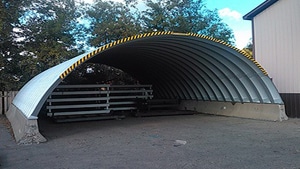 If you need to expand the roof on your current facility or extend some of the existing buildings you have, Toro Steel is a one-stop facility to serve all of your commercial and residential needs. We have multiple roofing system options available, allowing you to choose based on taste and need. The design of our roofs eliminates the need for trusses, beams and interior supports, allowing you to have a clear open space.
Our roofing systems are easy and quick to construct, allowing you to finish your project on time. They are built to last and designed to withstand heavy snow loads, storms, strong winds and more. This durability, along with the rust-resistant coating ensures your steel roofing system will last for decades to come.
Frequently Asked Questions About Metal Roofing Systems
Is Metal Roofing A Better Long-Term Value Than Shingles?
Although the upfront costs of buying and installing metal roofing systems tend to be higher than shingles, metal roofs will last longer and need less frequent replacements and repairs. Generally, a shingle roof will last between 12 to 20 years based on weather conditions and maintenance. However, metal roofs can last for 40 to 60 years and require less maintenance, making them a more cost-effective option with long-term value.
Does Snow Slide Off a Metal Roof?
Yes, snow will slide off metal roofing systems. Metal roofs can be fitted with snow guards to prevent snow from sliding down and damaging the surroundings or hurting someone walking past.
Do I Have to Remove My Old Roof Before Installing a Metal Roof?
In some circumstances, metal roofing panels can be installed directly over an existing roof. Doing so helps to save labour and time and eliminates disposal costs. Working with a professional company will help you determine whether this is a suitable option for your structure.
Do Steel Roofs Require Additional Structure Support?
Steel roofs are light in weight compared to other existing roofing materials. Steel roofs tend to be about 50% lighter than most asphalt roofs and do not need additional support.