Steel Buildings in Mississippi
The Magnolia State, Mississippi, is no stranger to extreme weather conditions. From strong storms with high winds and lightning strikes to damaging pests like termites, both residential and commercial buildings have many challenges to handle. Our prefab metal buildings in Mississippi have the strength, resilience, and durability to stand up to whatever Mother Nature throws at them.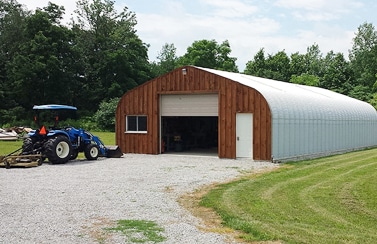 Mississippi is an agricultural state, providing approximately 17.4% of the state's workforce with employment. Other industries that have grown from agriculture include meatpacking and food processing. Oil and gas is also a growing industry with the recent advances in extraction technology. Our pre-engineered metal buildings are designed to meet the unique needs of all of these industries throughout the state.
Prefab Steel & Metal Buildings in Mississippi
Our metal buildings are available in a variety of designs to meet a wide selection of needs. Some of the structures we can provide residents of the state include:
Why Choose TORO Steel Buildings in Mississippi
Storm Protection
As a Gulf Coast state, Mississippi often experiences strong storms, powerful winds, heavy rainfall, and frequent lightning strikes. This intense weather has the power to cripple businesses if they are not prepared. While no structure can claim to be completely storm-proof, steel buildings offer considerably more protection for Mississippi residents than traditional structures.
Lightning and Fire Risk
Mississippi experiences well over 800,000 lightning strikes annually. The cloud to ground lightning resulting from thunderstorms can damage buildings and ignite fires, particularly in wood-framed buildings. Metal buildings do not ignite when struck by lightning or add fuel to any existing fire.
Termites
The warm, humid Mississippian climate is perfect for a wide variety of termites that wreak havoc on wood-rich homes and businesses, resulting in extreme losses. As our steel buildings do not use wood in any way, the termite risk is not a concern.
Additional Benefits
The durability and damage-resistant qualities of metal buildings do not go unnoticed by insurance companies. As such, some insurers may offer significant discounts on premiums for metal buildings in Mississippi.
The strong, economical, durable, and versatile design of the metal buildings from Toro are ideal for a wide range of applications. On top of that, they require very minimal maintenance, are an eco-conscious building choice, and can be installed quickly.
Protect Your Home or Business in Mississippi with a Steel Building from Toro
Toro has built a solid reputation as one of the leading providers of prefab metal buildings in Mississippi, offering cutting-edge building solutions for residential, commercial, and industrial applications. Our attention to detail, customer-centric approach and true pricing model help us stand out not only as a metal building manufacturer but a building partner that you can rely on.
Do you need a custom metal building? Request a free quote today or talk to us about your project. Our team is ready to help you find a building that is truly designed for Mississippi.