The first thing that comes to mind for most people when they think about Arizona is the Grand Canyon National Park. However, Arizona is also home to some of the biggest mining, manufacturing, and agricultural companies in the country. In addition to this, Phoenix is the most populous state capital in the country. The diverse variety of industries and businesses means that state residents must look for innovative solutions to address their structural needs. Steel buildings are versatile and reliable, making them a popular choice in Arizona.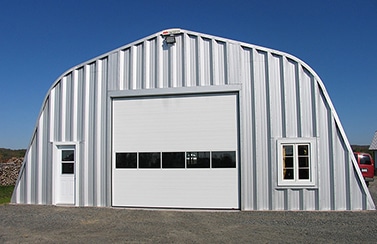 With a broad scope of applications, steel structures offer a fast, durable, and affordable building solution that allows different businesses and homeowners to meet their needs. Additionally, all our metal buildings sold in Arizona are designed to stand up to the range of temperatures and climates experienced in the state. We offer the best in high-tech steel buildings that use less material while still delivering a strong and reliable steel structure.
Our high-quality steel buildings are perfect for a variety of residential, commercial, and industrial applications. Whether you need a simple steel garage, a riding arena, a retail facility, or a warehouse, our understanding of building codes and guidelines in Arizona combined with our extensive experience will ensure you get a great result.
Residential, Industrial & Commercial Steel Buildings in Arizona
Let us help you secure your vehicles, both personal or company-owned, with a strong and reliable garage building that can also serve as a service or maintenance shop.
Our metal workshops provide a safe and reliable workspace that can accommodate different tools and equipment. It is naturally fire-resistant, letting you explore your passion safely.
Our metal storage buildings provide you with extra space for all your residential, commercial and industrial needs.
Protect your vehicles without the space requirements or costs of a full-sized garage.
A reliable and highly versatile structure to support all your agricultural projects, including equipment storage, harvest containment, livestock housing, and more.
We provide you with an open interior that can accommodate various size aircraft and support servicing and maintenance equipment and tools.
Our metal arenas provide an expansive and open space to support many recreational activities, including gyms, tennis and more.
This is an easy-to-setup and cost-effective option that uses your existing shipping containers to create a covered area. This can be used as an office, garage, or worksite, depending on your needs.
With a wide array of customizations and design options, our commercial metal buildings provide a safe and comfortable environment for various commercial uses.
What Makes Toro Ideal for Steel or Metal Buildings in Arizona
Toro is your trusted supplier if you are looking for metal buildings for sale in Arizona that are worth your investment. Our products undergo rigorous quality control and standards checks to ensure we provide our customers with the best product possible. In addition to the many benefits of choosing a metal building from Toro Steel, our professional customer service specialists are available to guide you through the process and answer any questions you have.
Toro Provides Top-Quality Steel Buildings in Arizona
No matter the size, location, or purpose of your next project, let us provide you with the best metal buildings in Arizona. All of the building kits we offer are easy to erect, cost-effective, versatile, and environmentally friendly. We provide both straight wall and arch wall structures, so be sure to contact us and we will help you find the right option for your project.