Whether you're looking to protect your personal vehicle or create a maintenance depot for a commercial fleet, steel garage buildings from TORO are the best solution. As an industry leader in steel auto storage and service buildings, you can feel confident knowing our metal garage kits will protect your belongings for years to come.
I am thrilled with the end results and the building is everything I hoped it would be and more. The quality is superior and went together very fast with zero problems. Thank you very much for making the best building on the market!
Bob M.
Farmington, NH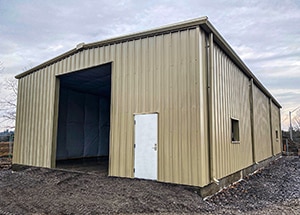 When looking for the garage kit that will be best suited to you, it is advised that you also think about the future. While you may only require space for a single car now, you may purchase additional vehicles in the future, or find yourself with recreational vehicles that must be put away as well. Additionally, you may decide that you wish to create a personal workshop in your garage. In these situations, having a structure that already has the space available for these new additions is ideal.
If you purchase a kit and find in the future that you need more space, our steel garage kits can be easily expanded and modified to fit with your changing needs.
Bought a 25 x 32 x 13 high steel garage. Excellent quality. Fast delivery. Was very hesitant in buying a mail-order building. No regrets at all. No surprises. Everything I ordered was received. Any questions I had, their tech support had the answers.
Russ DeLong
A garage kit from Toro Steel is created using a clear span interior. This provides an unobstructed space that can accommodate the variety of equipment necessary to operate a vehicle storage and maintenance facility. The size allows you to install hoists and bays easily, and the fire-resistance of steel will enable you to use welding equipment safely.
A commercial garage is designed to meet your specific needs. This includes the addition of multiple entries for both individual and vehicle, insulation, windows and ventilation systems. This ventilation will ensure that any fumes or chemicals will be directed out of your building, keeping the air inside clean and your workers safe.
When looking for a steel structure to house and protect valuable equipment and vehicles, you want to be sure that it will be reliable, durable, and strong. For these reasons, be sure to select your building kit from a company that provides certified drawings. This will give you the confidence that your kit will comply with local building codes and laws. It will also be a guarantee that the structure's blueprints have been signed off on by an engineer who has checked the design for quality, durability, and local compliance.
Are you wondering where you can get the best steel garage kits? Toro Steel Buildings has the ultimate storage solution for your car, bicycle, motorcycle, lawnmower or any other valuable item you'd like to keep safe. Our steel garage kits are highly customizable to meet your requirements, including size, weather conditions, workshop or office space, insulation, and more. Talk to us about your needs or check our clearance buildings to see if any of the listings match your needs.
Advantages of Metal Garages over Traditional Garages
A modern metal garage offers many distinct advantages over traditional garages, including:
Value – The prices of prefab metal garage kits tend to be significantly lower than those of traditional materials such as wood or brick garages. These garages are not only more expensive to build, but also to maintain.
Versatility – Metal garages offer an increased variety of customization. Our steel garage kits can be assembled and erected anywhere there is a level surface. They can also serve many different functions.
Safety and Convenience – Steel garages are resistant to the elements that could cause rusting, bending, or cracking. They are also easier to clean and maintain.
Prefab Garage Kit Styles
Steel Frame Buildings
This traditional style of buildings is made from straight walls and a sloped or peaked roof. It is an economical option for both smaller residential uses and larger commercial applications such as warehouses.
Quonset Hut Kits
The Quonset hut kits offer extreme ease of assembly and versatility, which is why they are popular as a DIY workshop or steel garage. You can add additional arches and extend them if needed. They can also serve a variety of purposes, from commercial to residential.
Frequently Asked Questions?
Q1. Is It Cheaper to Buy Steel Garage Kits?
Steel garage kits are typically cheaper than prebuilt garages. Additionally, they are available in a wide range of options, making it easier to find a garage that best matches your unique needs and budget. Considering the ease of assembly, your labour costs are significantly reduced, which reduces the overall cost of ownership.
You also have to consider the costs associated with owning the garage over its lifetime. The maintenance costs of most traditional garages can quickly rack up, particularly when exposed to the elements or such things as pests and mold. Our steel garage kits are constructed from Galvalume PlusTM Steel. This offers a range of structural benefits, including strength and durability, and resistant to those factors that can affect other materials. Our kits are protected with a 40-year rust perforation warranty. The cost savings from little to no maintenance requirements means you can recoup the building's cost in a couple of years.
Q2. Where Is the Best Location for A Metal Garage Kit?
All our products are easy to assemble and install. All you need to do for a successful installation is to ensure that you do so on a flat, level, firm surface. Constructing any building without proper support can undermine its structural integrity over time and could eventually fail, no matter how strong the materials are.
The good thing is that it does not take a lot of time or money to level your ground. You can also hire a contractor, so you are sure that you have a reliable foundation that will properly support your garage for decades. Depending on where you live and how the property is planned, you might want to consider the direction the garage faces for energy efficiency. Lastly, it is important to ensure that you are always abiding by the local building rules, regulations, and codes.
TORO Offers the Best Steel & Metal Garage Kits
If you are searching for a high-quality, reliable, durable garage, choose a steel garage kit from Toro Steel. Adaptable to fit a variety of sizes and accommodate multiple vehicles, tools, and pieces of equipment, a steel garage building will provide a safe and customizable option for your unique needs. Our structures are available in both straight wall and arch styles, depending on your preference and intended use. If you require assistance with determining which style best suits you, the size you need, or which accessories to consider, please contact the Toro Steel team to speak to an expert in your region.