The state that invented the shopping cart, Oklahoma, has always been industrious. So much so that Oklahoma State Capitol is the only capitol globally that is surrounded by working oil wells. On top of that, at 200, the state has the most artificial lakes in the US. For those outside Oklahoma, the state is well regarded for its wheat, pecans, peanuts, cattle, and beef products.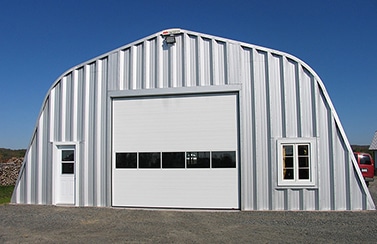 However, Oklahoma has the most tornados per square mile of all US states, meaning businesses large and small must seek innovative ways to support their operations securely and reliably. This is one of the reasons that metal buildings in Oklahoma are so popular.
The structures available from TORO offer a fast, affordable, and durable building solution that is incredibly versatile and reliable in the unique conditions in the state and across its industries. We offer the best in steel building design, performance, and quality while ensuring our structures have minimal environmental impact and are an eco-friendly choice. Our structures can support all your residential, commercial, and industrial applications.
The Advantages of a Toro Steel Building in Oklahoma
Oklahoma is no stranger to violent storms. While no structure can claim to be tornado-proof, we design ours to withstand high winds, meaning they are more likely to remain intact during a storm. On top of that, prefab metal buildings typically perform better in inclement weather conditions than traditional wooden or brick structures. Our metal buildings provide additional protection from:
Age-Related Aesthetic Changes
Condensation Problems
Earthquakes
Fire
Residential, Industrial & Commercial Steel Buildings in Oklahoma
Secure your personal or company vehicle with a versatile and reliable garage that can also serve as a service or maintenance shop.
A safe, reliable, and versatile workspace that allows you to explore passions, ventures, and ideas. It can accommodate a variety of tools and equipment to support your work.
A perfect solution for people looking for extra storage for their residential hobby and lawn equipment, commercial inventory and supplies, and industrial materials and produce.
Cost-effective alternative to a full-sized garage offering protection from the weather and elements.
Versatile and reliable structures that can support all your farming and agricultural activities, including livestock housing and crop storage.
A large structure that can accommodate various size aircraft as well as maintenance and service equipment.
Expansive, uninterrupted space that can be used for various recreational activities, including tennis, gyms, basketball, and more.
An easy-to-setup and cost-effective storage solution and worksite that can be customized for various uses.
A safe and reliable metal building that can support various commercial applications, including offices, warehouses, shops, and more.
At Toro, we take the time to understand our clients' needs and design each structure with their unique circumstances and usage requirements in mind. We listen to your ideas and provide pricing that ensures you get what you need and don't overpay for your steel building.
Toro Offers High-Grade Steel Buildings in Oklahoma
How could a reliable, versatile, and cost-effective building improve your everyday life? At Toro, we offer easy to assemble, durable, and environmentally friendly metal buildings in Oklahoma that deliver a long service life and save you money. Contact us today and let us help you find the right structure for your next project.