Prefab Garage Kits in Canada
Prefab garage kits have grown in popularity over the last few years. They provide a safe and solid structure for housing your car, storing tools, woodworking, locking bikes, working out, or taking time to relax. If you are looking for a well-designed, functional, and attractive garage, we have the perfect solution for you.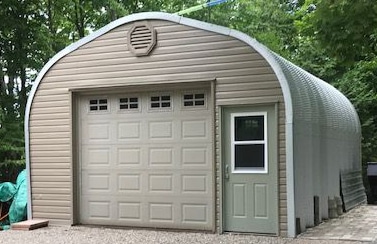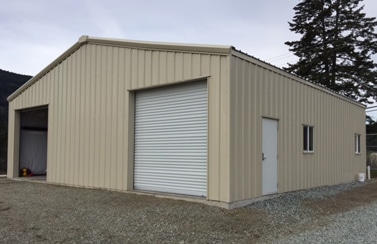 Toro specializes in designing and delivering prefab garage kits across Canada that save you time and money. They offer superior quality and value to our customers across the country, regardless of their needs.
The Convenience of Garage Kits
Convenience is an important factor for anyone considering prefab garage kits. Depending on the size and complexity of your building, you could have your garage up with just a weekend of work. Compare this to the months-long construction process of traditional building methods. You also don't need construction experience, and so finding help is easy. All the necessary pieces in the prefab garage kits are pre-cut, drilled, and designed to fit together easily.
Your prefab garage kit will be shipped to your worksite, complete with a thorough guide to help you build it. Be sure to follow all stated safety precautions, and you can have your metal garage up and ready in a fraction of the time. You also get the added benefit of significant savings on your labour and construction costs.
We Offer the Perfect Prefab Garage Kits
What are you looking for in a garage? We have a wide selection of styles designed to meet your unique needs and come ready to assemble. Every kit is professionally designed and precisely engineered to suit your lifestyle while being versatile, durable, and aesthetically pleasing. With the help of the accompanying instruction manual, you can have your garage up and ready in no time.
Residential Prefab Garage Kits in Canada
If you need a residential garage, we recommend that you also think about the future. While you might only need space for one car today, you might acquire additional vehicles in the future or extra space to store recreational vehicles or set up a workshop. Our prefab garage kits are available in a wide range of sizes to suit your needs. If you select an arch style building, you can easily add to the length in order to meet your evolving needs.
Commercial Steel Garage Kits in Canada
Our commercial prefab garage kits are available with a clear span interior, which provides an unobstructed space up to a certain width. This allows you to use the garage for a wide range of commercial activities, including storing equipment and machinery. The garages are designed to accommodate all your current needs and make it easy to fit your evolving needs, including installing bays or hoists with ease.
With a wide variety of options and features such as windows, skylights, insulation, and ventilation systems, our garage kits can accommodate all your needs. If you are looking for a garage that will be reliable, strong, and durable, you can rest assured that our commercial prefab garage kits will meet all your expectations. You can have peace of mind knowing that your valuables, equipment, belongings, and vehicles are well protected in a reliable building that meets all local building codes and laws.
Benefits of Our Prefab Garage Kits in Canada
Our prefab garage kits come with a wide variety of finishes and accessories to choose from, including:
Insulation
Sliding doors
Man doors
Turbine vents
Trims and flashings
Metal is one of the most popular building materials in the world. It offers incredible reliable durability without needing much material. This means your structure can withstand extreme weather like torrential rains, heavy snow, and powerful winds without needing additional material. The building can also resist rust, mold, and pests. With proper installation and care, your garage will last for decades.
Contact Us for the Best Prefab Garage Kits in Canada
A new garage is a worthwhile investment. At Toro, our reliable and durable prefab garage kits are designed to meet your specific needs. We are a leading provider of prefab garage kits, offering affordable, eco-friendly, and beautiful building solutions. Get in touch with us today to request a free quote or learn more about any of our metal structures.