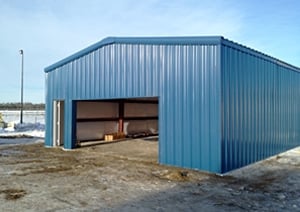 Pre-engineered steel buildings are both convenient and cost-effective and therefore a great alternative to traditional lumber constructions. When lumber prices more than doubled in the early 90s, the residential construction industry panicked; it was almost impossible to work at a profit. Steel became the only viable alternative and from then on has always been used in constructing some of the most durable, attractive buildings across the globe.
Steel has several advantages over other construction materials. But its customizability is probably its biggest strength.
Here are the five customizable steel building options now offered by Toro Steel Buildings;
TOROs wall customization options come in the form of beautiful commercial doors and translucent light transmitting panels.
Clients can choose from a complete line of commercial doors which include self-storage doors, steel curtail roll-up doors and pre-assembled steel man doors. Better still, you can choose from different sizes and can even impose your personality by selecting your favorite styles and colors. If you wish you can also order for custom sizes, gauges and hardware.
The translucent light transmitting panels are made from plastic reinforced with fiberglass resulting in perfect "windows" through which natural light can flow into your rooms.
When it comes to customization of roofing accessories, you have an array of options. You can go for a 20-inch circular gravity type ventilator unit with dumper, also known as a mono-vent; there are metal roof jacks that are mounted on roof panels for stack sizes of up to 12 inches; then you may also want a univent – a type of ventilator unit which comes with or without dampers and are perfect for continuous runs. Curbs are also available in standard or customer-specified sizes and can be customized to match your roof pitch. Finally, you may also want customized translucent light transmitting panels to help with energy saving.
TORO offers several Trimming and Flashing customization services. Corner Trims cover the joints between panels and can be used at practically every corner of the building. Eave Trims are for joints between sidewall panels and roof panels. Gable Trims are used to close joints between the roof panels and the end-wall panels of gable roofs. For joints between window frames and wall paneling, window trims can be used. There are also Framed Opening Trims for finishing off doors and other framed openings. Base Trims used to close off lower edges of a wall paneling, and down spouts and gutters to collect and transport precipitation.
Clear-Span Frames
You'll need clear span frames for constructions where the interior spaces must be obstructed. It's therefore a good choice for aircraft hangars, equestrian arenas, offices, and ice arenas among others.
Multi-Span Frames
Multiple span frames are applicable in constructions where an interior bearing may be used. Where the span exceeds 100 feet, it is important (for safety of the structure) to introduce an interior bearing.
Lean-To Frames
Lean-to-Frames are primarily for expansion or extension of structures to create additional space.
Insulation
Insulation is used in garages, stores, barns, grain sheds, warehouses, and hangars to control condensation, help with noise control, and ultimately help reduce energy costs. TORO uses high-quality fiberglass for insulation. The fiberglass can be customized to meet individual needs resulting in comfortable working, storage, or living conditions.
Summary
This customizability combined with the strength and durability of steel means that you can always build exotic structures without fear of damage due to environmental factors such as high winds, floods, and earthquakes.