Are you a boat enthusiast? Fell in love with a boat and just decided to go ahead and buy it? Ah, but now comes the difficult part of finding a good place to store your boat, especially during the cold, harsh winter that Canada and northern parts of the U.S. experience. Here's the perfect solution to your problem – build a steel boat storage shed!
Storage Options for Your Boat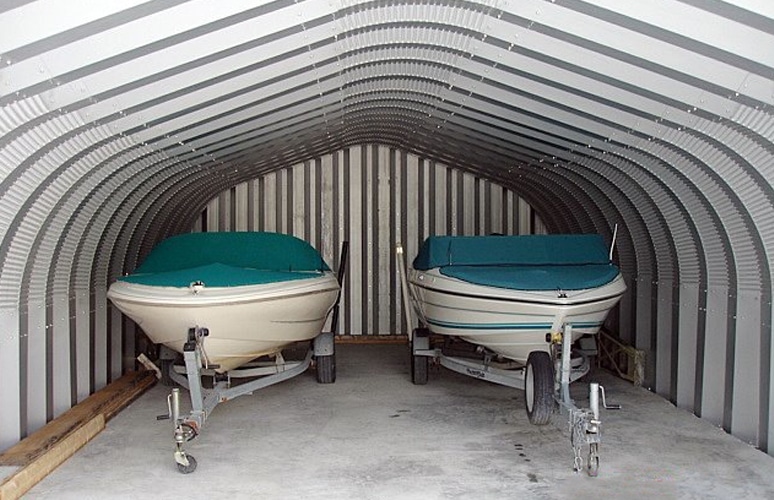 Cruising away on your boat is probably one of the most enjoyable things in life and is perfect for those relaxing 'lazy days'. However, storing your boat can become quite expensive, especially during the winter.
You may choose to store it in water or ashore. If you choose to store it ashore or on land, you must prepare it properly for the winter and choose some sort of storage option. These on-land storage options are plentiful, but they are quite expensive. Furthermore, the storage place may be too far from where you live and will cause a lot of inconvenience.
The only other option is to store your boat at home and it is practically impossible to fit a boat into a normal sized garage! So, some people are forced to keep it in their backyard. Not only will it look totally out of place and detract from the beauty of your yard, but storing your boat outside could also damage it. If it is stored in the yard, it will be constantly exposed to the elements and this could cause serious problems regarding its maintenance. You may think covering it with a tarp will solve your problems, but what about when the snow is piling up?
Why you should opt for a boat storage shed?
Building a boat storage shed enables you to store your boat on your own property, thus reducing your storage expenses. You could choose from a wide variety of storage sheds and even garages or carports which are also ideal for storing an oversize vehicle such as a boat.
These storage sheds are perfect for keeping your boat enclosed within four walls and safe from exposure to the snow and other elemental forces. There are different types of storage buildings which you could opt for and these will also help to protect your boat from being vandalized. These also are more visually appealing than leaving the boat in the backyard and letting the elements get the better of it.
Choosing the Perfect Steel Boat Storage Shed
When choosing the type of boat storage shed you should opt for, consider these main factors:
The size of your property
The size of the boat that you wish to store
If you wish to store any other vehicles, consider their size as well while selecting your boat shed.
Steel boat storage sheds are the perfect choice if you want the boat to be enclosed in such a way that it also cannot be visible to your neighbours. In today's market, there are a variety of trendy designs for storage sheds which can also complement the look and feel of your home!
Request your free quote today, or if you require additional accessories for your mini storage building kit, call us at 1-877-870-8676 and inquire about your options!
Also Read: