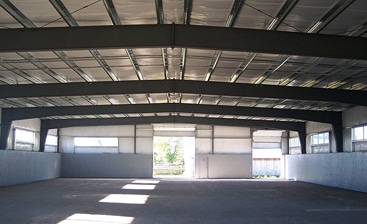 The terminology associated with metal buildings can be confusing to many people. Whether you plan to build it yourself or hire someone, knowing the different components used in metal buildings and how they come together is helpful. Some of the most important components in a steel building are purlins, which are only found in straight wall structures.
A purlin is a beam or bar made from wood or steel that runs horizontally across the structure. They are often attached to the rafters or walls of the building and support the roof. They also offer some structural support.
Why Are Steel Purlins Preferred?
Unlike wood purlins, steel purlins are lightweight, stable, straight, and free from imperfections that may be present in natural material. They also allow for expansion and contraction as the temperature changes.
They are made of strong galvanized steel and feature a layer of paint on the outside that provides outstanding corrosion protection. A steel purlin also has the advantage of being resistant to rot and pests, both common concerns for wood. While a wood purlin may crack from dryness or sag due to moisture, steel purlins will remain strong.
Purlin Roofing
Commonly used in the construction of metal buildings, purlin roofing provides reliable and long-lasting protection for the building. During the design phase, purlins are tested for a variety of load types, including:
Dead Load – The weight of the accessories and sheeting materials
Live Load – Added weight during repairs and maintenance services
Environmental Load – Snow, wind, and seismic load
This ensures that the purlin is strong enough to withstand all loads over the course of its life without damage or sagging.
Purlin Span
This is the distance between the centers of the cleat bolts located at each end of the purlin. When referring to a span, keep in mind that it represents a complete purlin run system and not separate components.
Single Purlin Span
A single purlin span is supported by bolting the web of the purlin to a cleat or other solid structure.
Double Purlin Span
In the case of double purlin span, the purlins are supported at both ends as well as in the center. This may be only one purlin that extends the full length or two continuous purlins lapped at the central support.
Continuous Purlin Span
A continuous purlin span is supported at both ends and a series of equally spaced intermediate locations. Generally, the purlins are overlapped at each support with a lap length of 15% of the span.
Accessories
Laps
A lap length should typically be 15% of the span. If the span lengths are unequal, such as with reduced end spans, then each purlin should have 7.5% of each adjacent span added instead of 7.5% of that purlin's span. Lap lengths that are less than 10%, or 5% on any side of a support, may not be strong enough for the long-term integrity of the structure and could experience failures.
Cleats
Single cleats are typically used in the majority of situations, including lapped Z purlins. A double cleat is often used only when successive unlapped purlins are butted together. Double cleats may also be used where there is a high reaction load to reduce bolt stresses. If used in this way, additional care is needed during hole detailing.
Purlin Design
Spacing
Typically, purlin sections take on the slope of the roof they are supporting. Careful arrangement is required when spacing the purlins as they should follow the nodal pattern of the supporting trusses. Purlins need to be placed on the nodes of the trusses rather than on the members themselves in order to avoid secondary bending. Cold-formed C and Z (Cee and Zed) sections are recommended for purlins in metal buildings as they are light, stiff, and strong yet allow for easy transportation, fabrication and installation.
Bridging
Bridging prevents purlin rotation during installation and wall sheeting. Consequently, the maximum recommended bridging spacing, or the space between bridging and cleat, is 20 multiplied by the purlin depth but not greater than 4000. Following this guideline negates the risk of misaligned fastenings that can cause additional stresses on the roof sheeting and fasteners. It is also important to note that excessive purlin rotation during construction is a safety hazard. For this reason, at least one row of bridging should be used in each purlin span for added safety.
Installation
Roof purlins are generally installed horizontally beneath the metal roofs and over roof rafters with a vapour barrier such as a felt underlayment on top. They are typically 2 by 4 feet and installed in the same way as the metal roofing. Their structural strength provides added support to the roof as well as a nailing surface for the drip edge and end panels.
Hot cutting or welding of purlins is not recommended as the heat produced affects the material properties of the cold-formed, high-yield steel used in the purlins. This might create considerable stress concentrations even with good quality welding. Additionally, welding removes the local protective coating, which compromises the durability of the purlin.
It is also important to note that roof purlins must be kept dry during storage to avoid premature corrosion. Additionally, the installation of purlins can be hazardous and requires a proper safety plan prior to the installation, regardless of whether you decide to do it yourself or enlist a professional contractor's help.
Toro Steel Offers the Best Metal Building Accessories
When designing your metal building, you need a reliable source for high-quality materials. Toro Steel Buildings is a professional supplier of metal building accessories for all types of structures. We have a variety of accessories, letting you fully customize our prefabricated metal buildings and ensure that they serve your unique needs. We carry insulation, man doors, turbine vents, sliding doors, trim flashings, roof accessories, and much more. Contact us today to learn more about how we can help you build a reliable and durable metal building.
Also Read: