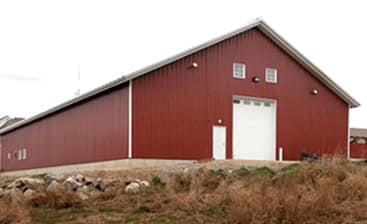 Whether you need a place to store equipment, agriculture or livestock, a metal barn from Toro Steel Buildings is a reliable and cost-effective option. All of our structures are completely customizable, allowing them to accommodate whatever you need. Our teams can help you determine the specifics of the barn you need. Barns can be upgraded too with a wide variety of accessories.
5 Benefits of Steel Farm Buildings
There are a variety of benefits that come along with utilizing steel farm buildings including their ability to last longer than traditional structures and their affordability. Learn more about the other benefits of choosing steel for your farm structures on our blog.
Why a Prefabricated Steel Kit is Excellent for Farm Buildings
Those in the farming and agriculture industry know how important it is to have buildings suitable for your needs. A prefabricated barn or farm building offers the perfect combination of strength, durability and customization to meet the demands of the trade. Some of the many benefits of steel farm buildings are explained further on our blog.
Steel Barn Kits
While a wood pole barn system can be useful in its own right, the quality between them and a steel structure cannot be compared. A steel building from TORO offers more strength and resilience, improved performance and flexibility to expand or modify the interior. Additional benefits when compared to a wooden structure include the following:
Heavy exterior panels add strength and longevity and are suited for high winds
Safer and offer insurance savings
Easy to construct without the need for heavy equipment
Increased interior clearances for livestock and equipment
Long-term dependability with little maintenance required
Learn more about our agricultural steel barn and farm buildings.
Purchase a Steel Barn with Confidence from Toro Steel Buildings
At Toro, we take pride in our ability to provide metal structures for a variety of industries. Our buildings are able to meet our customer's needs affordably and effectively and last them for years to come. For more information about our metal barns or any of our other pre-engineered buildings, reach out to us at 1-877-870-8676 or submit a request for a free online quote.